In recent discussions with several business leaders, it has become clear, especially during this period of COVID, that communication skills are paramount. What many organizations are finding out is that individuals listen and communicate based on two primary variables: where in the organizational chain they reside and, their generational communication style. Accordingly, individuals who are in leadership positions and, presumably, of "older" generations are ineffective at communicating with entry level employees who communicate within the context of a different generational era. And, while the words may still be in the same language, the content and context are completely foreign. As such, businesses are now looking to solve the matrix by employing some level of agility to "bounce" seamlessly between varied communication styles – all while effectively still building their respective organizations.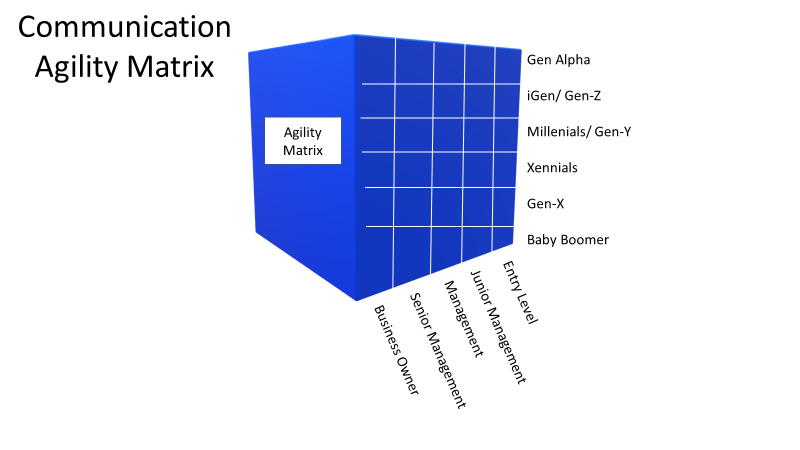 Certainly, advertisers have figured out how best to communicate with their ideal customer demographic – recognizing value propositions are going to be different based on your generational orientation. Accordingly, the language and messaging (as well as the video representations) are all geared to a single consumer block. But what about organizations – a comprehensive melding of various generations – all with their own communication styles?
To begin to unlock an agile strategy requires the realization that a single message will not suffice – especially if it is focused on a corporate "call to action".
The first stage is to define each of the matrixed boxes in your organization – and identify the clustering of your current employee pool. You may find that as opposed to filling every box in the Communication Agility Matrix, you may have "pockets" of generational and positional groupings that can help reduce the number and frequency of internal messages.
At the second stage, decide what types and forms of messaging are effective for each organizational cluster.
Finally, at the third stage, as you anticipate growing your business over a projected timeline, determine whether your organizational clusters are going to morph into a different agility matrix.
The key for any proactive business movement is understanding your current organizational matrix and proactively working to ensure differentiated messages are developed, communicated, and acted upon. And, although there are organizational pundits who advocate trying to move individuals into different matrix "boxes", the reality is that individuals will not opt to adapt their style of communication. In a sense, it is a constant of their respective core make-up – a condition of their environment as opposed to a learned response.
For higher education, the goal is to teach current students the scope of the agility matrix so they realize that individuals at their employment site will not always communicate in their preferred style. In addition, executive education programs can also teach this agility matrix as a means to better communicate with their changing organizational environment. Again, we don't expect individuals to migrate to a "foreign" matrix box but, maybe, there is a possibility of greater communication effectiveness if we realize that "our way" is not the only way!
Back to FXUA NEWS